I had something to celebrate last week. And because turning 18 can be very sweet, I needed to celebrate it with cake. I love oreos, I love cake pops, I love chocolate, everybody is freaking out about sprinkles.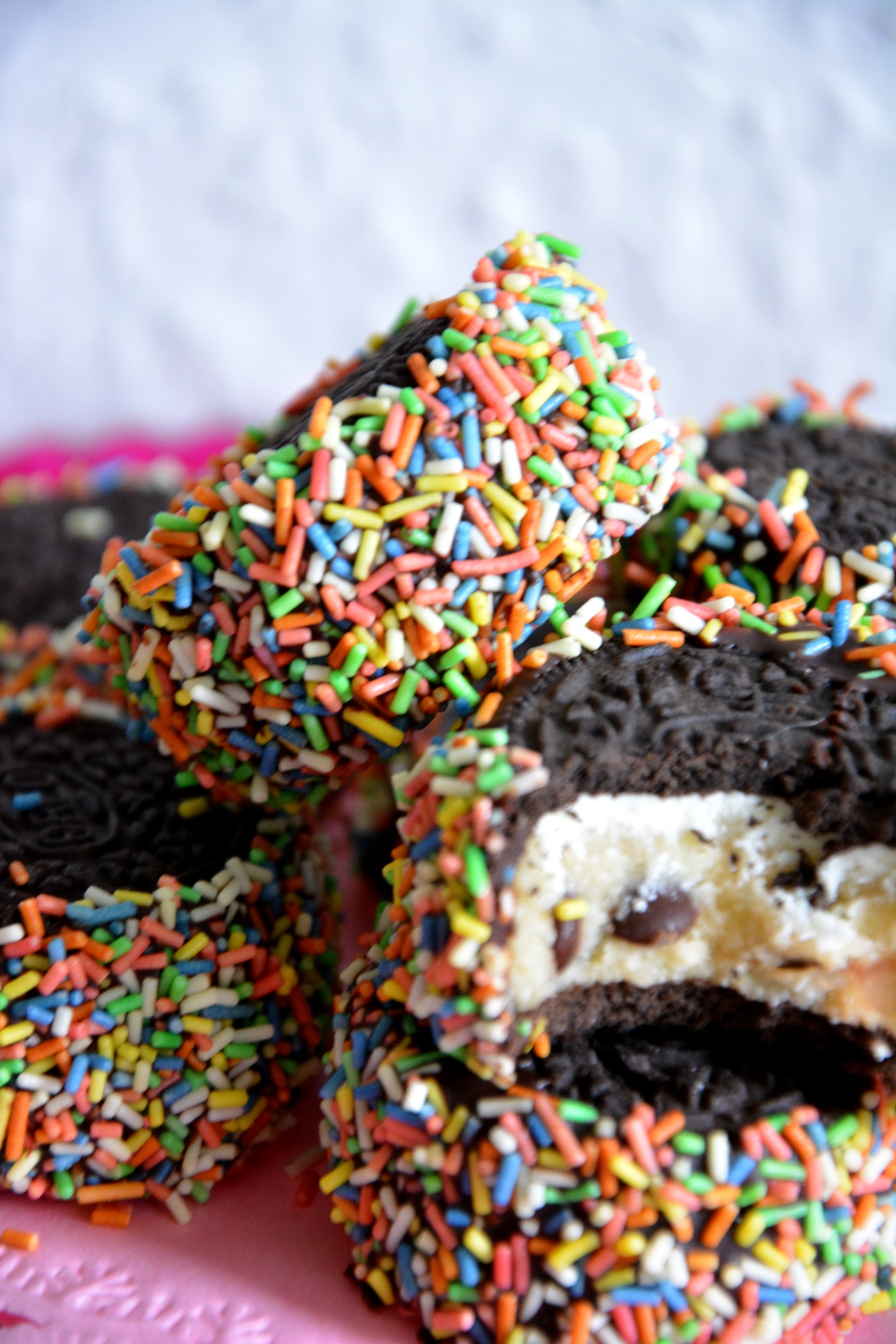 Conclusion: Combine 'em. I made a cake pop batter with the cake and cream cheese, mixed it with cream cheese buttercream and sandwiched it between the two halves of an oreo cookie.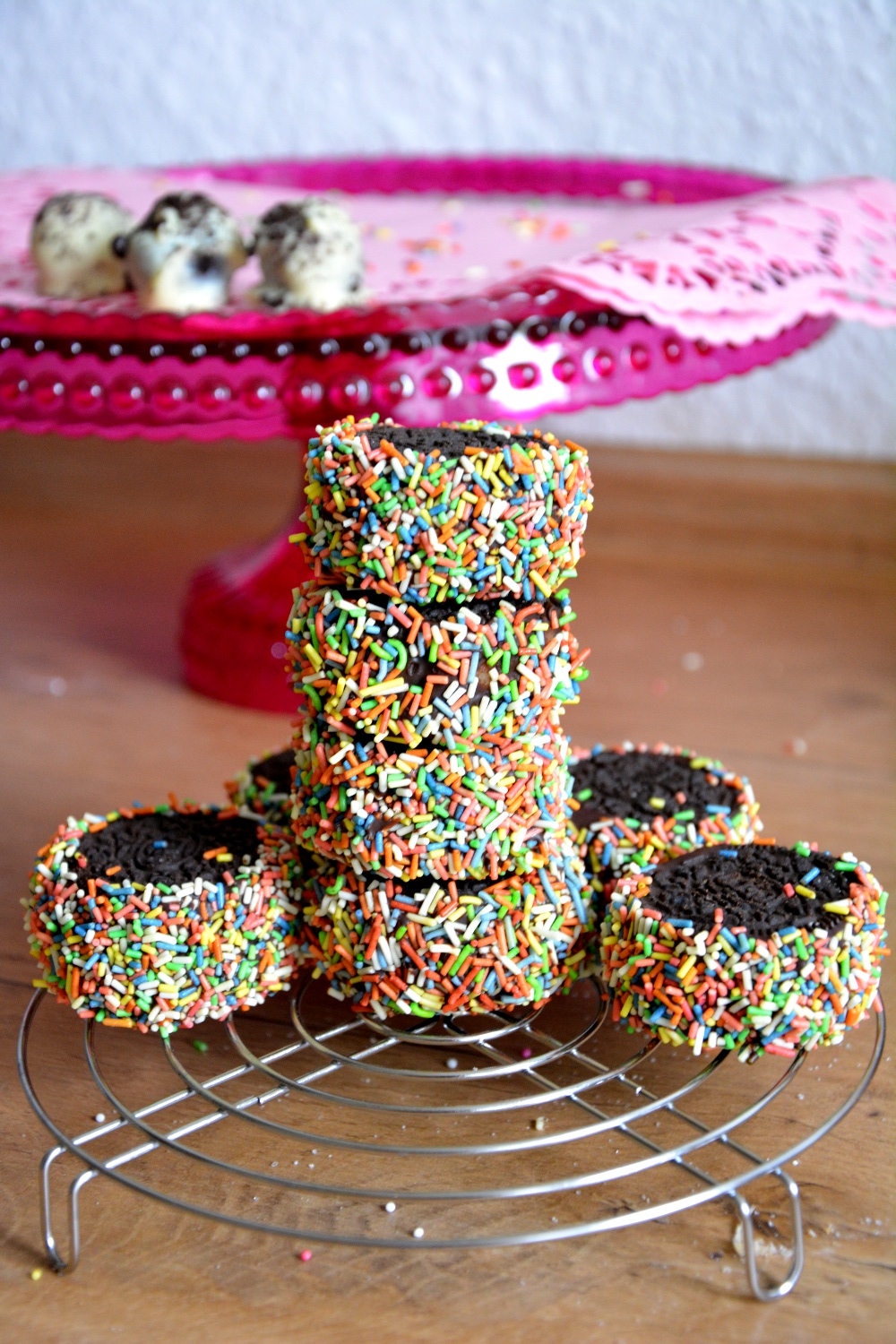 No critics.
A post about other treats around this fabulous birthday may follow this week. Remain interested :)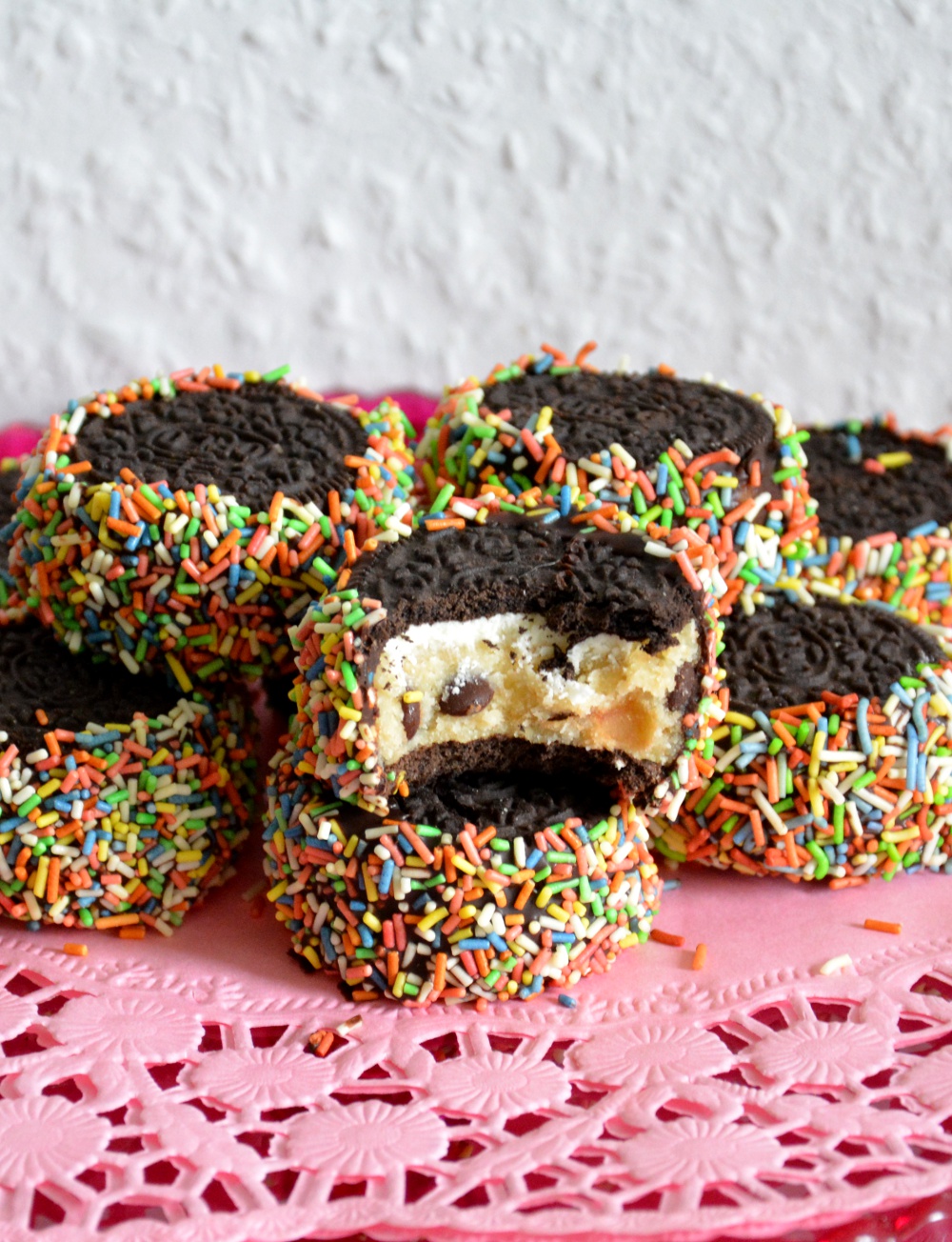 Oreo Cake Bites
(makes about 16)
cake:
125 g (1 stick) butter, room temperature
100g (1/2 cup) sugar
2 eggs
150 g (1 1/4 cups) all purpose flour
1/2 tsp baking powder
1 pinch salt
frosting:
100g (7 oz) cream cheese
30 g (2 oz) butter
40 g (¾ cup) powdered sugar
½ tsp. Vanilla extract
2 tbsp small chocolate chips
16 oreo cookies
100 g chocolate
sprinkles
Whisk together the flour, baking powder and salt in a medium-sized bowl. Set aside. Preheat oven to 180° C (350° F).
Cream the butter and sugar in a large bowl, until the mixture becomes light and fluffy. Add one egg at a time and stir until fully incorporated. Now add the dry ingredients and stir until the dough is smooth.
Transfer the mixture into an oiled pan and bake about 20 minutes until a toothpicker comes out clean.
Let the cake cool completely, then remove the hard edges. Now crumble the cake into a large bowl. This you can do easily with the help of a grater.
Prepare the frosting. For this, place the butter into a microwave-safe bowl and microwave for 25 seconds. Add the cream cheese, powdered sugar and vanilla extract and stir until the frosting is smooth.
Combine the crumbles and the frosting and stir until you get a dough-like mixture by using your hands. Add the chocolate chips and mix until evenly spread.
Divide the oreo halves with a knife. Place about 1 tbsp of the cake batter on one half, top with the other and press them gently together. You can form the mass with your wingers so the egde is even.
Place in the freezer for about 15 minutes or in the fridge for 2 hours.
Melt the chocolate and roll the edge of the oreo sandwich in the coating, then dip in a bowl of sprinkles. Let the chocolate harden and enjoy people's exited faces when they have the first bite.